Because I haven't done one of those yet, so maybe I should!  here are the latest news since Sesame Seade Book 1 – Sleuth on Skates came out a month and a half ago…
Reviews
We've had a touching review from Parents in Touch, a wicked review from Bookwitch, some nice Goodreads & Amazon comments, an amazing review-cum-life-experience blog post by Robin Stevens in which she recounts her own Sesamish childhood, a great review on the ABBA website by Pippa Goodhart, a lovely not-scribbled review on Scribbles Book Reviews.
I also had a guest post on the very cool Girls Heart Books website, where I talk about the genesis of the book and the fact that I like not getting rid of the parents.
Events
I haven't started doing events quite yet, but I will soon…
Soon being…
– Sunday 7th July: talk + reading at the Christ's College Family Day, as the Development Office were kind enough to invite me (charity begins at home, hey). Closed event, I'm afraid!
– Saturday 13th July, 11am : talk + reading at Waterstones Cambridge – this one is open to all.
– Monday, 30th September, 10:30 : event at the Bath Kids Literature Festival, scaringly entitled 'Supersleuthing with Clementine Beauvais'.
Gargoyles Gone AWOL
Meanwhile, preparations for the second book, Gargoyles Gone AWOL, are well underway. I've just received the dummy cover for the book, and it's getting to know the dummy cover for the first book. Soon it will be the two books that will have to share bookshelf space… coming out October 3rd!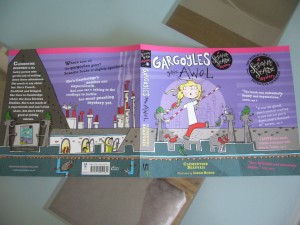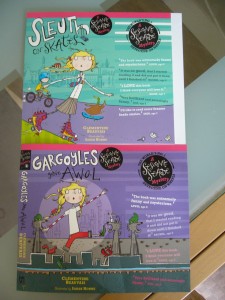 That's all for now! Going back to rerererereading my PhD thesis now – my viva is on Monday…
Clem x