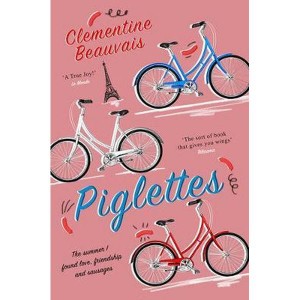 I'm delighted to be able to report that Mireille, Astrid and Hakima's improbable cycle trip has seduced a number of people into nominating their adventure for two very brilliant awards indeed:
The Books Are My Bag award – alongside an unbelievably high quality set of novels… Please do vote if you enjoyed Piglettes! it's a reader's voice awards, so get yours heard – with or without a comedy French accent.

And the Carnegie Medal, for which it is on the nominations list, alongside many other books by Pushkin Press – congrats Pushkin! – and, I'm super pleased to see, five translations.
Bourg-en-Bresse power!!! Good luck to all the nominees and thanks so much to the readers who've already read the book, reviewed it, recommended it to friends, etc.
And those who thought it was a good idea for it to be on those lists: merci times a million.
Clem