YA novel, Pushkin Press, translated by me (and erm, written by me too…)
Out since July 6th, 2017!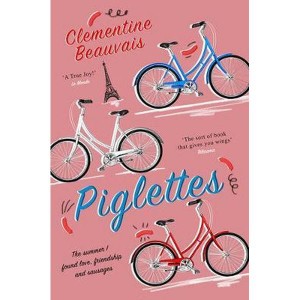 Awarded the Gold, Silver and Bronze trotters after a vote by their classmates on Facebook, Mireille, Astrid and Hakima are officially the three ugliest girls in their school, but does that mean they're going to sit around crying about it?
Well… yes, a bit, but not for long! Climbing aboard their bikes, the trio set off on a summer roadtrip to Paris, their goal: a garden party with the French president. As news of their trip spreads they become stars of social media and television. With the eyes of the nation upon them the girls find fame, friendship and happiness, and still have time to consume an enormous amount of food along the way.
——————————————————
Piglettes is the translation of my Les petites reines (published in 2015 in France by Sarbacane), which is to this day one of my absolute best-sellers in France. It's also won lots of awards, has been adapted for the stage (currently touring!), is being turned into a film, has been translated into German, Polish, Italian, and now English. And it's by far the book for which I get the most mail. There was a before- and an after-Piglettes for me, and I'm delighted to be able to bring the book to the UK now.
I wrote about the process of translating the book here!
Here are some early reviews of the book in English (thank you!!):